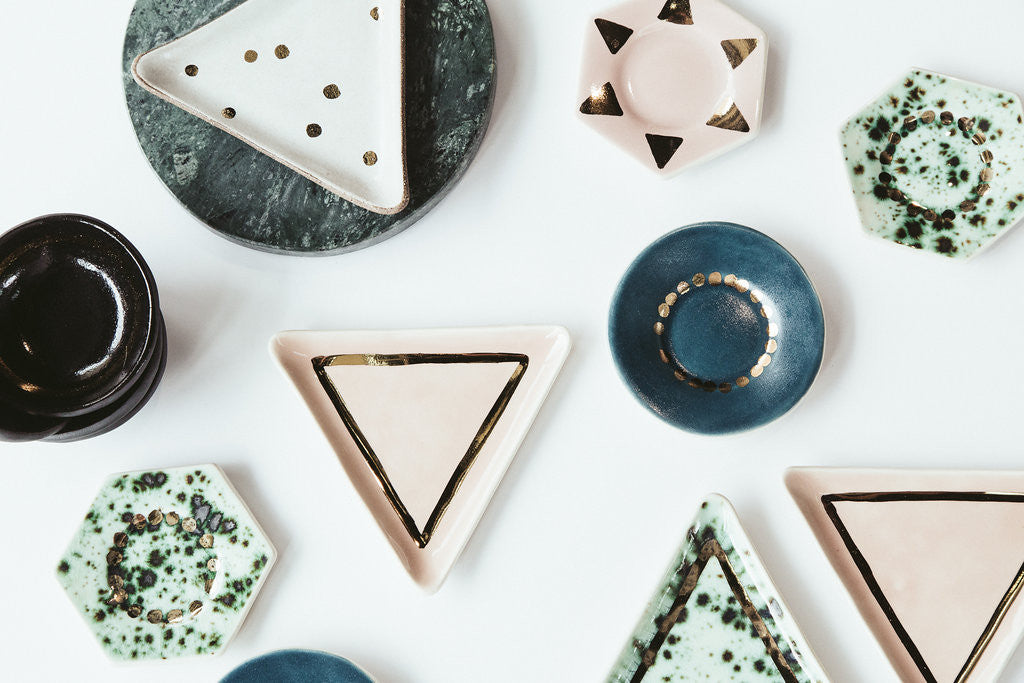 It's springtime in Omaha, with the hot hot heat of summer fast approaching. Inspired by the lush hues of tropical landscapes – warm moss, rich ferns and emeralds, electrifying pops of chartreuse – and the softest blush-colored desert cactus blooms… 
Oh, whatever, truth is that Pink/Green party is hot right now and we wanted in. With a nod to the current trend, coupled with our signature rustic-meets-modern aesthetic, we've transformed our showroom into a setting fit for the season. Read on for a peek at the recent scene-changes and the newest spring/summer goodies stealing the show.
White Avon Pot: $7 | Green/White Ceramic Cacti: $15 | White Small/Large La Vista Vase: $18/$35 | Ceramic Medium/Large Celfie Vases: $11/$18 | Paddywax Hygge Candles: $27 | Two-Tone Small/Medium Ash Pots: $10/$17 | Mauve Vase: $20 | Nude Vase: $10
Some window displays take months to go from inspiration and conceptualization to execution. But then other times Gus* creates a dreamy blush velvet sofa and everything just falls into place in a matter of days.
Co-owner Nick took the reins on this display design (with some backup assistance from yours truly). Then Brandon, our other co-owner, worked his magic transforming it into reality. Featuring Graham and Brown's Honolulu Palm Green Wallpaper, the Bella Pendant Light from Nuevo, and a special Hey, Soldier! appearance by way of a quirky vintage oil pastels portrait, the end result is equal parts Palm Springs Mod and Millennial Pink Golden Girls Glam. 
And we're in love.
Our home decor and kitchen accessories got a dose of the pink/green treatment too. Cactus emblazoned dinner plates and fern printed throw pillows co-mingle seamlessly with our custom barn wood picture frames and heritage black and white buffalo check throws from Faribault Mill. 
Black/Pink Cosmic Pillows: $59 | Green Ceramic Cactus: $15 | Round Botanical Pillow: $36 | Barn Wood Picture Frames: $25 | Nightfall Pot Small/Large: $18/$25 | Love, Style, Life by Garance Doré: $30 | Buffalo Check Faribault Throw: $70
We also recently went all natural history with a gallery wall devoted to the finer creepy crawlies. Good design should make you feel something, right?
Ahem, vintage Tarantula taxidermy, anyone?  
It's the perfect context for our newest line of personal care items, Damn Handsome Grooming Co. Seriously, could this stuff smell any better? Made in Michigan by craft beer enthusiasts, their aim is to utilize the often wasted healthy ingredients in the brewing process – naturally beneficial items like the vitamin enriched brewer's yeast and antioxidant packed super grains like oats, hops, barley, and wheat  – ultimately providing a natural grooming care option that isn't lame.   
But it's not all dark and heavy... we've brightened things up in the front of the shop with another new collection of beauty and personal care items. Fresh styes of Object Enthusiast ceramics just hit the shelves. And out of California, Urb Apothecary, a natural skin/body care line, is made of simple chemical-free ingredients focused on harnessing the healing power of herbs and plants.
Meanwhile, we're over here just swooning over that gold packaging. 
Things are always changing in the shop so stop in and visit us often – whether it's to build a personalized terrarium, snag a last minute witty card for the wedding you're already late to, or just to get inspired by all the design eye-candy all around!