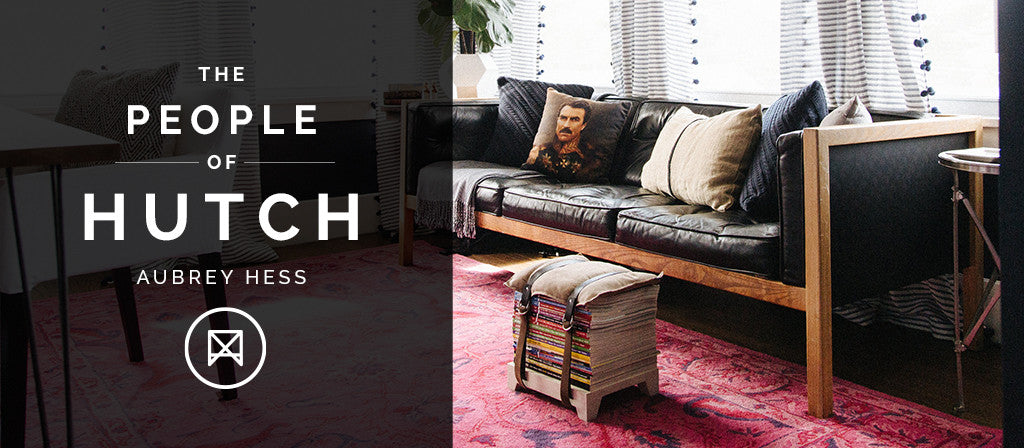 Few things are more thrilling than catching a peek of our hutch goodies nestled cozily in their forever homes. From modern tufted sofas to pint sized terrariums we love seeing how you, our cool, resourceful, and ultra design-saavy customers, style your hutch finds. That's why we're excited to announce our latest blog series: The People of hutch (#thepeopleofhutch, naturally). We're busting down the doors (but really politely) on some of our most seasoned customers, featuring their homes and design style, celebrating the local haunts and neighborhoods that make up our beloved Omaha landscape, and, of course, appropriately appeasing our appetite for glimpses of hutch products in the wild.   
Kicking off our series is Aubrey Hess, a Realtor with Better Homes and Gardens | The Good Life Group, who, in her own words, has been "legally snooping in people's homes for eleven years now to help people buy and sell their most valuable asset... and it's awesome." No doubt all that snooping has paid off because Aubrey's own home embodies the covetous mix of approachable-eclectic, polished comfort.
Located in the historic, and oh so charming, Dundee neighborhood, Aubrey and her husband, Corey, with their two young daughters, Emerson and Montgomery have lived in their 100 year old home for just over a year. And in that short amount of time they've filled it with chic and inviting character (thanks in part to a hearty collection of furniture and accessories found at hutch!).
Case in point: Above, our concrete and walnut Monier Coffee Table – made by local artist Jeremy Estill of Roost Artisan Homes – sits proud and pretty atop Aubrey's Moroccan-inspired area rug.
Below: A detailed shot of our San Vicente Leather Sofa by Four Studio – its trim silhouette covered in luxe top grain leather makes for one tough but cozy statement piece, guaranteed to wear and patina perfectly with age.
Long before moving to the neighborhood, Aubrey was an ardent fan of driving the treelined Dundee streets, and as she puts it, "gawking out the car window, and annoying the driver behind me by driving too slow." Being a realtor had its perk when she learned their soon-to-be-home was going on the market. An hour before it was listed she had the opportunity to sneak in for an approximate 8 minute dash through the house – just enough time to fall in love and know it was the one. "Houses have magic, and they pick you. Not the other way around."
Pictured above: Em and Monty survey the surrounding Dundee landscape perched on their Vintage Black Leather Chair found at hutch. Neatly nestled by the fireplace, it's just one of the many examples of how Aubrey expertly mixes new with vintage throughout her home.  
In fact, she also has the matching Vintage Black Leather Sofa situated in her office – her favorite piece from hutch. Originally from the Woodman Tower lobby, she loves owning a small piece of Omaha history. "It's in great shape. It's surprisingly comfy, and it's a great place to watch the fireworks on the Fourth of July from Memorial Park while looking out the office window." 
The office is Aubrey's favorite room in the house, and we can see why. Those richly hued Navy walls, and light-streaming banks of windows have us swooning. Even her fiddle leaf fig in our concrete Flux Planter seems overjoyed to call this room home.  
Aubrey's controlled use of pink throughout their home is one of our favorite elements. From her pink rugs, offset by neutrals in the living room, and the heavier doses of black and navy in the office, to her cheery patterned wallpaper in the bathroom, she knows how to incorporate the color in doses that feel at once cohesive and not the least bit saccharine.
And we're just all around smitten. 
We're honored to have customers like you, Aubrey, with killer style and brimming with hospitality! Thanks for sharing your home – and what home means to you: