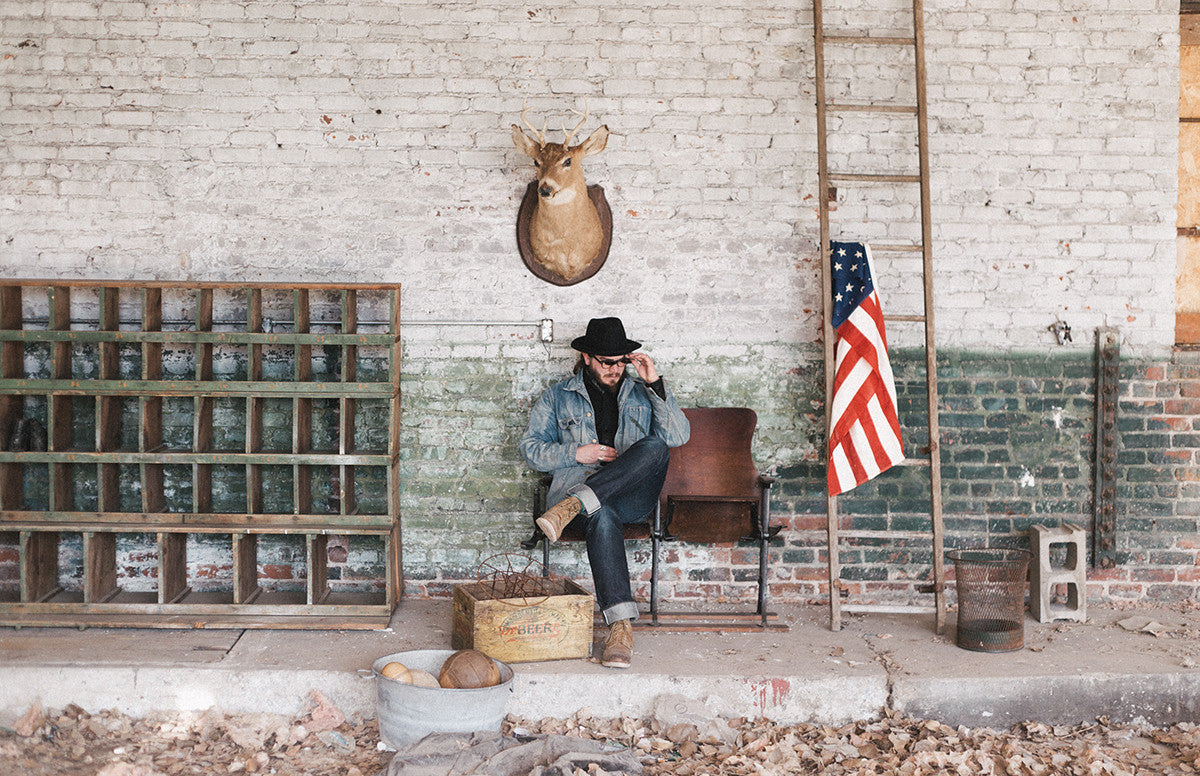 If you've been in the shop over the past few months you've no doubt encountered the influx of rustic objects d'art curated throughout – a 1960s wooden toboggan artfully leaning beside a sleek credenza, a faded denim jacket festooned with hundreds of quirky vintage pins (an antiquated top hat to punctuate the look). It's a little bit eccentric with a heavy dose of history, and just so perfectly hutch.
The man behind the memorabilia, tchotchkes, and other aged accouterment is Cody Medina, aka The West Place. A collector at heart, he travels the midwest hunting for the best vintage wares, and you can bet we're pleased as punch to have him picking exclusives for hutch!
Cody's affinity for vintage picking can be traced back to his childhood. Growing up on a farm in rural Nebraska meant days spent riding 4 wheelers, shooting guns, and roaming the countryside with his brothers. He learned from an early age to love the land and appreciate his hardy American heritage. 
Being dragged around to countless flea markets, garage sales, and antique auctions with his parents was another formative (though less appreciated at the time) pastime. The appeal of rifling through other people's old stuff hadn't quite set in yet. It was, however, the beginning of an underlying passion that would more fully develop down the road.    
Roughly four years ago is when Cody decided to take his (now matured) thrifting, antiquing, and collecting hobby and try to make something of it. He set up his first booth full of curated rustic goods at a local junk fair under the moniker, The West Place – a nod to the familial nickname given his childhood home, situated on land just west of his grandparent's. And that first foray into reselling was a complete success! In his own words:
I found my niche. I enjoyed the people, the atmosphere, the freedom, and the responsibility of being your own boss. Better yet, I never felt like I was truly working. Since then I have travelled to 5 different states for similar markets... I've always bought what I like, that way, if I'm stuck with it for some reason I'm alright with that. When I'm out on the hunt the items speak to me in a sense. I am drawn to all sorts of odd, and weird, but mainly items with personality or purpose. I enjoy seeing my finds in the homes of others; and saving or repurposing items from the past to preserve and protect a part of history is important to me.
In addition to foraging for vintage, Cody's also an experienced leather worker. From wallets to key chains, tote bags to blanket carriers, these are just a smattering of the items he handcrafts with leather sourced from a Chicago tannery founded in 1905. For him, there's something about the process of working with his hands, creating something out of nothing – each new project a puzzle for him to solve and simultaneously make his own. It's an honor participating in such an ancient craft, making modern products able to last a lifetime.        
By sourcing vintage for hutch, and helping to merchandise it throughout the store, Cody's been given the opportunity to grow The West Place from the pop up market into more of a lifestyle brand. And the opportunity is mutual as we, here at hutch, consistently benefit from Cody's keen eye and insatiable zeal for the hunt. We're honored to partner with The West Place and look forward to whatever new old treasures he brings in next!
* Photos by Emma Morem Photography