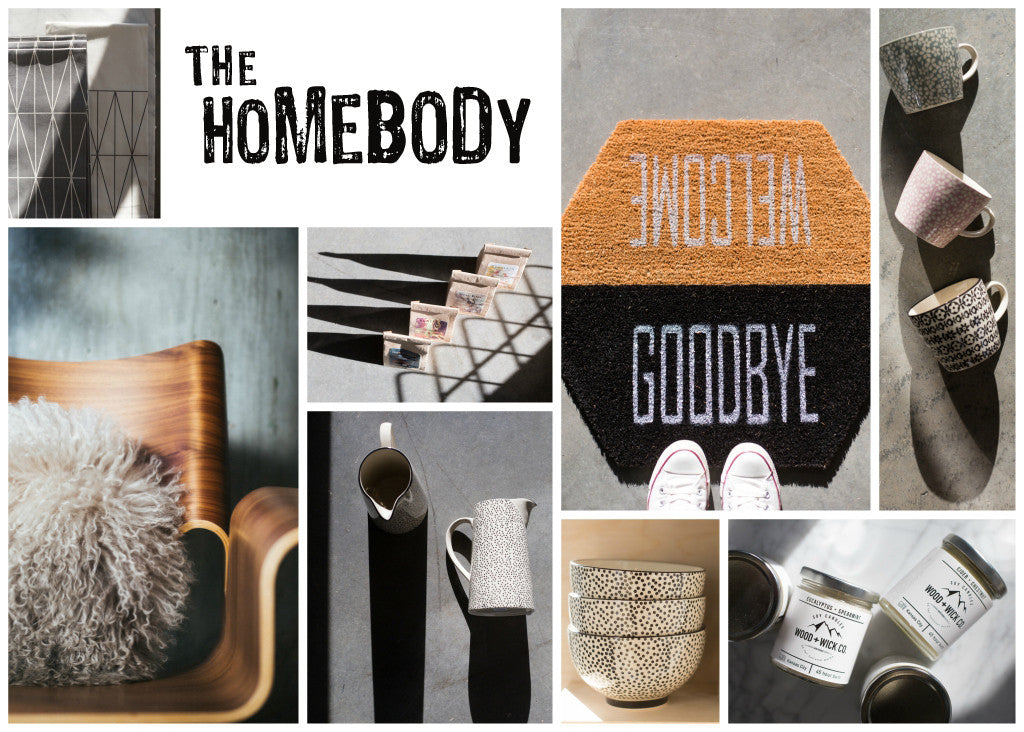 And we're back with our third and final gift guide of the season!
This one's for all the home-loving shut-ins out there (Here Here!). When the mercury drops and there's simply no will to venture out passed sundown, a well furnished pad is a must. We've got all the best gifts to keep The Homebody on your list stylish, cozy, and cared-for.
Julie Water Pitcher: $35 – Help them look like they've got it all together. Nothing says I'm a grown-up like water poured from a decorative ceramic pitcher. 
Welcome | Goodbye Doormat: $32 – Cover the bases for crossing the threshold.
Wood + Wick Co. Candles: $25 – Pure Soy, hand poured candles from Kansas City. Ten incredible scents to choose from, you won't be able to pick just one. It's cool, go crazy. 3% of proceeds go directly to the National Parks.  
Julie Bowls: $6.50 – Sporting a refined dot detail on the outside, plus a sassy pick-me-up interior, these bowls were made for three towering scoops of Chunky Monkey.     
Round Tibetan Lamb Fur Pillow: $60 – Perfect for pretending home is a swanky chalet in the Himalayas, not a one-bedroom with a clanky radiator.  
Julie and Seeke Mugs: $6 – A tasteful allover floral print in the perfect not too big/not too small size. Go on, drink-up and tilt those pinkies skyward!      
Artemis Tea: $12 – Made locally in Omaha by a clinical herbalist, using whole (never powdered) ingredients, with an aim to increase personal vitality and well-being. And yeah, they're yummy. 
Oven Mitt/Cotton Kitchen Towels: various ($6.50 - 8.50) – What's not to love? A charming Scandinavian inspired motif plus an even more charming price-point. 
We hope you've found our hutch 2016 Holiday Gift Guides helpful! If you haven't already perused the previous two, check 'em out! Whether your searching for a Lumber Jack or Jill or Feminist Minimalist, we've got you covered! And stop in the shop to find gifts for everyone on your list, because at hutch, we're #notjustfurniture
From all your friends at hutch, have the happiest of holidays!
* Photos by Emma Morem