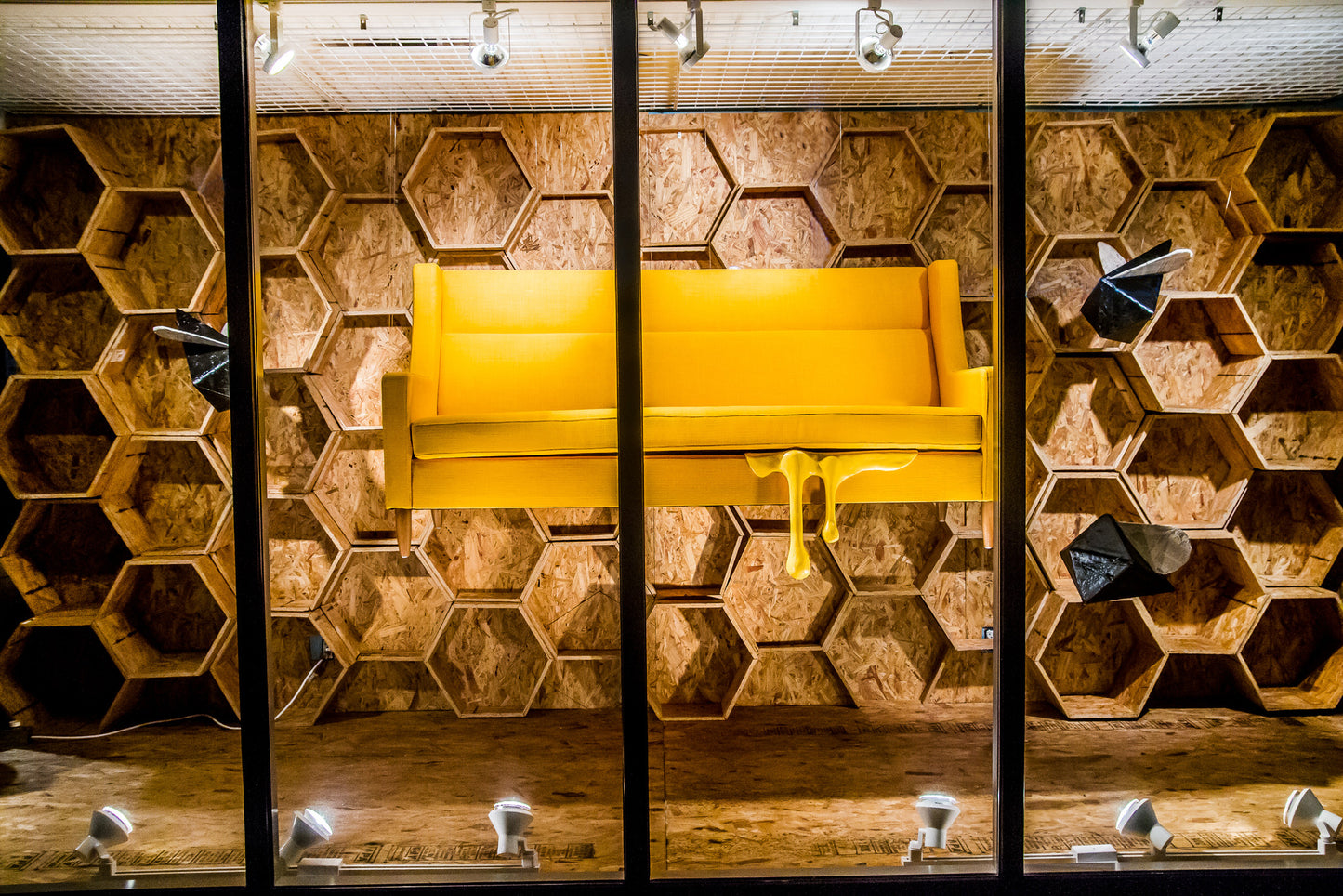 This spring we unveiled our newest window display: A larger than life beehive highlighting the bright and bold stylings of the Gus* Carmichael Loft Sofa and GT Rocker. Upholstered in Laurentian Citrine, a show stopping golden hue, their Queen Bee status is undeniable. 
The extraordinary concept was the brain child of Hutch Co-owner, Brandon. He wanted to create a look that recalled traditional springtime themes, but also played into Hutch's rustic modern bent. A minimalist at heart, it was also important to ensure the windows were impactful, while still employing streamlined simplicity. 
Hutch's windows are only updated four times per year which presents a challenge. How do we create a concept that can both loosely relate to the season, but remain relevant as our cultural relationship to the weather shifts through the season? The other guiding forces determining the direction for the windows were a tight budget, and Brandon's personal desire to do something without the use of words – a visual so compelling the viewer would be drawn in whether or not the furniture was their style.
Here's what Brandon had to say about his inspiration,
I was sitting at my computer concepting the window display and getting frustrated as nothing was coming to mind. I had to break for lunch and made myself a pb/honey sandwich and a glass of milk (as I often do). I remember pushing the other spices in my cupboard to the side and seeing the small jar of locally sourced honey. Honey... honey... My brain scanned the hexagon bee hive pattern on the honey packaging and noted it's "modern" vibe. "That would make a good texture" I thought. My brain then lept to the bold yellow fabric of the Gus* Modern Laurentian Citrine on a few of our frames on the showroom floor. I think a big grin came across my face... BINGO!
Initially Brandon thought about building the hexagons out of cardboard, but the previous window display had also been made of cardboard. Particle board could work! It was inexpensive and had the bonus of lending a modern edgy vibe. Over the course of six days he completed the windows including hand cutting, configuring, and installing 140 honeycombs in varying sizes.
Like the dripping honey on the sofa and rocker, the bees are made of paper maché. They are an intentionally modern and stylistic departure from their classic yellow and black striped visual. It's another way of seamlessly nodding to the beehive theme without adding too much pattern and detracting from the statement furniture. 
We're so happy with these windows and grateful for the resounding positive feedback we've received from so many of you. Thank you! It's hard to believe it's already time, but Brandon is currently conceptualizing our next display. And  the rest of the Hutch team, we're just over here giddy with expectant excitement for whatever it is he dreams up next.   
Cheers to our friend, Joshua Foo, for all of these amazing photos, and making the work we do look so good!