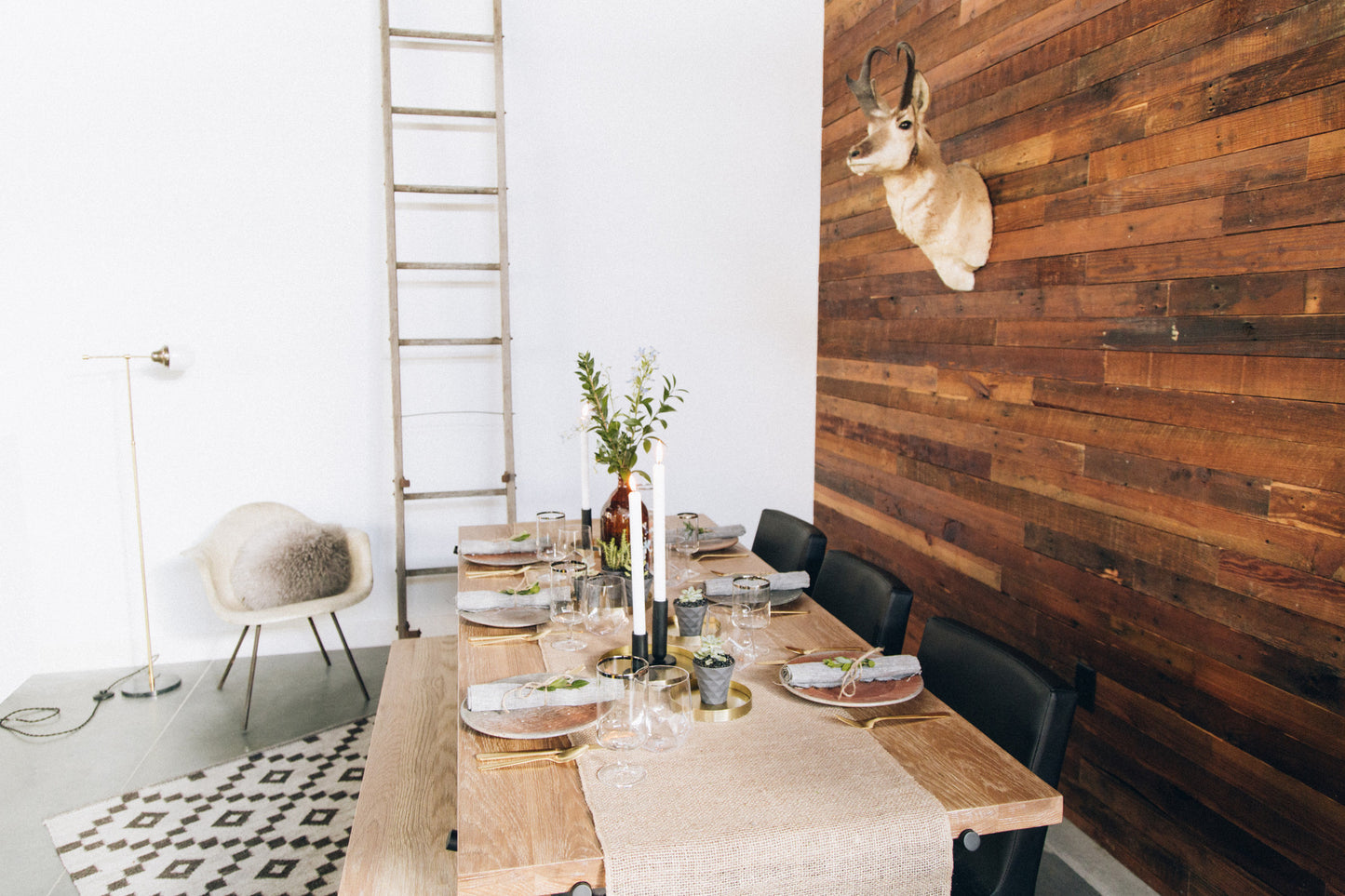 In a little over a week families and friends across the country will gather 'round a table to feast and relish the simple joys of another year lived. For many, Thanksgiving is the start of a season of intentionality; we try, whether successfully or not, to slow down just a bit, relax into some comfortably baggy clothes, and better appreciate the people and pets (and internet memes) that give us life. 
To celebrate the upcoming festivity we decided to work up a little Thanksgiving table setting of our own. Grounded in that comfortable blend of rustic coziness and modern simplicity, in a word, it's hutch.
With our Branch Table by Blu Dot as the base, we started with a strip of burlap for an effortless table runner. Then we layered on ceramic dinner plates handmade by local Lincoln, Ne artist, Stuart Gair. Full of character, each one is just a little different from the next, some with polka dots, some with burst imprints from the kiln, and all in slightly varying colorations. Rolled up scraps of textured and subtly patterned linen tied with twine and dressed with greenery serve as carefree cloth napkins.
Vintage silver rimmed stemware and modern geometric glasses add some glamour amid all the simplicity. And an aged Pabst Blue Ribbon jug corrals an uncomplicated cluster of greens. Then for a sweet little touch, miniature potted succulents in streamlined brass trays make a charming table top display, and (bonus!) the cutest favors for your guests to take home and enjoy long after the party ends.  
If you're still thinking through your table arrangements stop in and visit us this week. It's all currently available, from the table settings, to the vintage leaning ladder via The West Place, to the antelope, um, wall art. 
Happy Season of Thanksgiving from your friends at hutch! We are so thankful for your warmth and community, now and always. 
Narration and Table Setting Design – Megan Pettipoole
Photography – Emma Morem